5.9L Dodge Cummins Performance Engine Cylinder Head - Video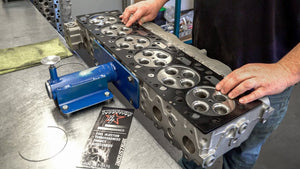 Dustin Hembury from Industrial Injection explains the 5.9L Cummins Heads. The Industrial Injection 5.9L Cummins Performance Heads are designed for the daily driver/weekend warrior in mind. Fully CNC ported head complete and ready to bolt-on.
CNC Ported Cylinder Head: The porting process performed uses a new 5 Axis CNC Cylinder Head Porting Machine with CAD/CAM software specifically designed for cylinder head porting.
New Performance Stainless Steel Valves: We use the highest quality upgraded stainless steel valves with a nitrate coating for ultimate durability to outperform and outlast any aftermarket or OE valves available.
High Strength Alloy Valve Guides: New High Strength Alloy, Heat Treated iron-based valve guides are installed.
---
Rich text5.9L Dodge Cummins Performance Engine Cylinder Head - Video