The Woes of Buying a Turbocharger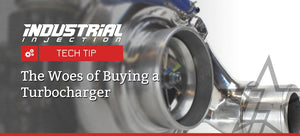 As an average diesel pickup daily driver, and‌ even as a diesel performance enthusiast, knowing the ins and outs of a turbocharger is uncommon knowledge. Turbocharger assemblage is not especially complicated, most everyone with nominal mechanic skills can take one apart or even put one back together. Where the complexity comes into play is; knowing the varying tolerances, specifications, and performance outputs.
Since the inception of the company in 1985, Industrial Injection has been rebuilding turbochargers. In fact, some of their top turbo technicians have been rebuilding turbochargers since the 70's. Many of the Industrial Injection turbocharger staff were lead turbo technicians at factory facilities before making the move to Industrial Injection. Needless to say — turbocharger knowledge runs deep at Industrial Injection. The turbocharger staff at Industrial Injection can help guide any customer through the process of buying a turbocharger.
Things to Watch For When Shopping for Turbochargers
When buying new; make sure you are buying a turbocharger with genuine factory parts, a factory warranty and a technical support staff. Cheaper is not better! Using cheap, non-factory parts — even though they may offer a warranty, carries a much higher risk of failure. Failure of a turbocharger can cause major engine damage costing you thousands of dollars in repairs.
When buying a custom turbocharger; make sure your builder is trained and experienced. Turbine wheels, compressor wheels, inducer, exducer, turbine housing, compressor housing, twin scroll, single scroll, etc. Does your builder really know what kind of results you are going to get with the options you choose?
When rebuilding a turbocharger; make sure your rebuilder has the equipment and training they need to remanufacture your turbo to the most reliable specifications and tolerances. Once again — make sure they are using genuine factory parts, or repairing damaged parts to factory specifications.
Do Your Homework
As a turbocharger buyer, you need to do your homework. Don't just take any shops word for it. Make sure they have the knowledge and experience to back their word.
Industrial Injection is North America's largest BorgWarner Franchise Distributor, as well as one of the highest ranked Holset Distributors. Shane Williams, Industrial Injection Co-Owner, is a member of the BorgWarner Distributor Council and the Holset CTT Distributor Council. Industrial Injection has four employees factory trained by BorgWarner to provide on-the-spot warranty. Industrial Injection can also do warranties for Holset CTT.
With an in-house dyno and hundreds of thousands of miles tested on vehicles, Industrial Injection has the performance data figures of many, many different turbochargers. Whether you want a boxed turbocharger, or you want something custom built for racing or sled pulling; Industrial Injection has the expertise and proven testing to get you the turbocharger you need.
Like previously mentioned, Industrial Injection not only has the best turbo technicians in the industry, but they have a full in-house turbo machine shop. Ranging in state-of-the-art equipment from; mechanical lathes, CNC lathes, shaft balancing machines, to a 5 axis CNC machine to provide customers with the best turbocharger rebuild and manufacturing facility in the industry.
There are a few good companies to buy new turbochargers from, there are fewer good companies to buy custom built turbochargers from, and there are even less good companies to get a turbocharger rebuild. You won't regret choosing Industrial Injection to supply you with your turbocharger needs.
‍
---
Rich textThe Woes of Buying a Turbocharger