Garrett Turbo Partnership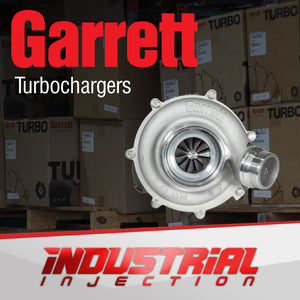 Industrial Injection and Garrett Turbochargers have been in a master distributor-authorized factory warranty center relationship for years, and it's not hard to see why. It's been an awesome partnership that has produced some stunning results – from performance upgrades beyond belief, to giving you long-term reliability and peace of mind as you drive your dream truck!
Garrett is one of the most well-respected names in turbo manufacturing, so you know when pairing up with Industrial Injection, you're getting the best of both worlds – quality components at affordable prices, along with outstanding customer service. Every part we provide is backed by Garrett's trusty warrantee coverage – if anything happens on our watch, we've got your back. So if you want maximum bang for your buck and a serious boost in horsepower, team up with Industrial Injections: the ultimate #1 choice for all your turbo needs!
Got turbo needs? Look no further than Industrial Injection! We combine the best of both worlds – quality, high-performance parts at affordable prices, along with top notch customer service. Plus, every product we offer comes with Garrett's trusty warranty coverage – so you can rest easy knowing that not only are you getting an amazing deal, but your turbo upgrades will last for years to come. So don't put off your turbo dreams any longer – upgrade today and experience the power of Industrial Injections for yourself.
Customers who have experienced Industrial Injections' turbo-boosting power firsthand have nothing but great things to say. Here are just a few of their reviews:
"Industrial Injections is the best choice for turbo needs. Their quality components, customer service, and warranty coverage really set them apart from other companies." - Paul Cotter
"The performance upgrades they provided were beyond belief. Highly recommend!" - Wesley Williams
"These guys know their turbos like nobody else! Had a fantastic experience dealing with them." - Jeff Miller
---
Rich textGarrett Turbo Partnership