Moke Miyahira's 2005 Dodge Ram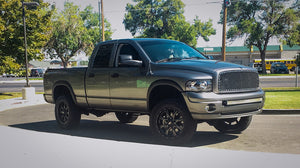 What is the Truck?
2005 Dodge RAM 2500 5.9L Cummins.
What is the Truck Mainly Used For?
Daily driving and commuting to and from work.
Any Future Plans?
Moke plans on getting the transmission built to better hold the horsepower. He also plans on getting more robust tuning.
Build Details:
260,000 original miles.
ARP Head Studs
Edge Tuning
FASS 165 GPH Fuel Lift Pump
Current highest horsepower on chassis dyno to date: 636HP
Stock Transmission! (He drives carefully.)
5" Magnaflow Exhaust
---
Rich textMoke Miyahira's 2005 Dodge Ram