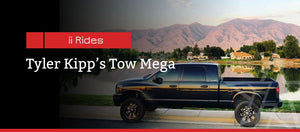 What is the Truck?
2007 Dodge RAM 2500 5.9L Cummins.
What is the Truck Mainly Used For?
Towing the race trailer with the Budget Beater race truck in it and sitting around looking pretty.
Any Future Plans?
Possibly compounds, valve springs, push rods, 6.7 short block, street cam, and fire ring head.
Build Details:
305,000 original miles and still counting.
2nd Gen Turbo Swap kit modified to fit an 72mm HX55 - currently.
Industrial Injection Dual CP3 Pump kit with stock pumps
ARP Head Studs
EFI Live tuning by Breakout Tuning
Built 48RE by Ultimate Transmission
FASS 165 GPH Fuel Lift Pump
Currently making 802HP on the Chassis Dyno
Flo-Pro 5" Exhaust w/ 6" tip
Edge CTS2 Insight Monitor
Carli progressive rate leveling coils
FOX 2.0 Shocks
35x12.50x20 Toyo RT's
BMF 20x10 Novakanes
---
Rich textTyler Kipp's Tow Mega