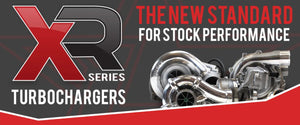 The XR Series of turbochargers is the perfect option for replacing a stock turbocharger with one that's more capable of standing the test of time and bolts right in. Our XR series of turbochargers has three options when replacing your old stock turbo: The XR, XR1, and XR2.
Through the use of a Billet Blade Technology compressor wheel and optional BBT turbine wheel, airflow is increased, which helps to reduce EGTs and assists in improving efficiency to keep your pick-up on the road. When choosing a stock replacement turbocharger, you should go with one that is capable and well made. Every XR Series turbocharger checks these boxes and then some.
If you're looking to upgrade the performance of your truck, you might want to consider the XR Series Turbochargers from Industrial Injection. These turbochargers are designed to provide increased airflow and lower EGTs, which can lead to improved power, fuel economy, and reliability. With high-quality components and precision engineering, the XR Series Turbochargers are worth every penny for your truck. What's more, they come with a one-year unlimited warranty, which is a testament to the durability and performance of these turbochargers. If you're serious about getting the most out of your truck, give the XR Series Turbochargers a try - you won't be disappointed!
The XR Series Turbochargers from Industrial Injection are a highly sought-after upgrade for diesel truck owners looking to get more power, better fuel economy, and improved performance. Here are some of the main features and specs of the XR Series Turbochargers:
Increased Airflow: The XR Series Turbochargers feature larger compressor wheels and housing that provide a significant increase in airflow capacity. This increased airflow translates to better throttle response, improved low-end torque, and overall faster turbo spool-up.

Reduced EGTs: High exhaust gas temperatures (EGTs) are a significant concern for diesel trucks, as high temperatures can cause damage to the engine or turbocharger. The XR Series Turbochargers are designed to lower EGTs by increasing airflow and improving combustion efficiency.

Durable Construction: These turbochargers are built to last with high-quality materials and precision engineering. They feature a billet compressor wheel, larger journal and thrust bearings, and high-temperature turbine housing to withstand the extreme operating conditions of diesel engines.

Easy Installation: The XR Series Turbochargers are a direct bolt-on replacement for the factory turbocharger, making installation quick and easy. They also come with all necessary mounting hardware and gaskets.

One-Year Unlimited Warranty: Industrial Injection stands behind the quality and performance of their products, and the XR Series Turbochargers are no exception. They come with a one-year unlimited warranty that covers any defects or failures.
Overall, the XR Series Turbochargers offer a significant improvement in performance, reliability, and durability over the factory turbocharger. With their increased airflow, reduced EGTs, and easy installation, they are an excellent choice for anyone wanting to get more out of their diesel truck.
---
Rich textXR Series Turbochargers