Fueling Diesel Innovation: Industrial Injection's Unmatched Expertise in CP3 Fuel Pump Technology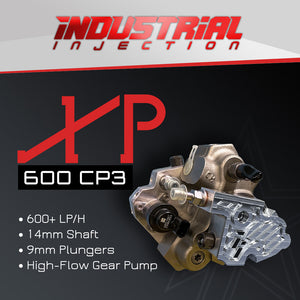 The CP3 fuel pump was introduced by Bosch, a leading automotive component manufacturer, in the early 2000s. The CP3 pump gained widespread adoption in the mid-2000s as diesel engines transitioned to Common Rail technology. Since then, the CP3 pump has become a standard component in many diesel engines due to its performance and reliability. It is responsible for pressurizing the fuel and delivering it to the fuel injectors at the required pressure and timing.
Industrial Injection has been rebuilding and remanufacturing CP3 pumps since they were first introduced to the market and began experiencing wear and tear. As a result, they have become Bosch certified as a Bosch Service Center and Diesel Center System Specialist. When it comes to remanufacturing CP3 Pumps, Industrial Injection has more experience than anyone else in the diesel industry. They have the best employees and crew in the nation, and their customer support is unmatched.
From their remanufacturing process to the components they use, Industrial Injection ensures that each pump is built to spec and meets or exceeds OEM standards. Whether you need a new CP3 Pump or your current one needs repairs, Industrial Injection has the experience and knowledge necessary to get your engine running at peak performance. They are proud to provide reliable solutions for all of your diesel needs.  
Industrial Injection has always been at the forefront of new CP3 developments and innovations, being one of the first to introduce dual, and triple CP3 pump setups for high horsepower applications, to their development of the impressive XP Series CP3 pumps. When the XP CP3's were first introduced in 2015, they were the best-performing, and highest-flowing CP3 pumps on the market as a single pump application. Now, once again Industrial Injection has raised the bar in CP3 pump innovation as they just introduced their XP 600 CP3 Pump! Engineered with a robust 14mm shaft, 9mm plungers, a high-flow gear pump, and hardened & DLC coated internals, this powerhouse is set to redefine industry standards. Needless to say, CP3 Pumps from Industrial Injection are the last word in performance and reliability.
Whether you're looking for an upgrade or just need to have your current pump remanufactured, trust industrial injection to provide you with the best parts, service, and expertise available. From their experienced team of Bosch-certified technicians to their cutting-edge technology, they are proud to be the industry leader in CP3 High-Pressure Fuel Pump Solutions.
Click here to learn more about the New XP 600 CP3 Pump »
---